"asshole workout"
Bike:  5:20 (98km)
transition about 5 minutes
Run:  90 minutes (not sure how many km, but I ran well)
comments:
Mario told me before we started the bike ride, "today is going to be very tough, but you …
Bike 5 hours (125 km)
transition about 5 minutes
Run:  90 minutes
Core:  30 minutes
Comments:
I didnt sleep well (once again) 
The bike ride was moderately difficult until the 3 hour mark … when Mario stopped to get some …
Swim 4,000 meters
Run 2 hours (about 20km)
Core Strength training about 2 hours
Comments:
My legs are sore today so I did my swim in a cold lake without a wet suit.
I had a good swim, but it …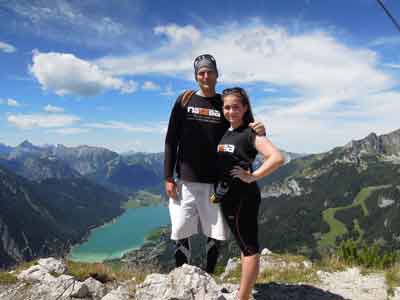 Hike in the mountains:  5:40 in total … 3:40 nearly, non stop climbing/hiking up 2,000 meters.
Comments:
Mario and his wife Sabine, 5 year old daughter met Sophie, Giovanna, Marie and I for a day together.
The plan was we …
Bike:  6 hours exactly (163km)
transition less than 10 minutes
Run:  2 hours (just under 20km)
Comments:
We had a good tough ride – we had a strong head wind for what seemed like a majority of the ride.  My …
Swim:  easy 2,000 meters
Core strength workout took about 2 hours
Comments:
My schedule said "recovery swim" which I did in a cold lake without a wet suit — I figured the cold water would help my legs.
I swam …
Bike:  5 hours (125 km)
Run:  90 minutes (15 km)
Comments:
After yesterday's 25 km run, I could hardly walk… and my knees hurt.  It was the worst training day since I have been in Austria.
I was concerned today's …
Swim:  4,000 meters
Run:  25 km  (3 hours scheduled, but it took longer)
Core:  missed workout
Comments:
Mario ran with me (again) … my schedule said "3 hour fat burning run" which I took for a long, easy run.  Wrong.…
Swim:  65 minutes in very cold lake
Bike:  4:00
Run:  30 minutes
comments: 
I had an ok swim, nothing special.  I didnt wear a swim cap, so it took a good 10 minutes for my face and head to get …
Swim:  2,500 meters (broken up into various sets)
Core strength training:  about 2 hours
Comments: 
Easy swim workout – and then I went to Mario's gym to do what I thought would be an easy core strength workout — but …