finish or failure. my RAAM solo 2013 challenge…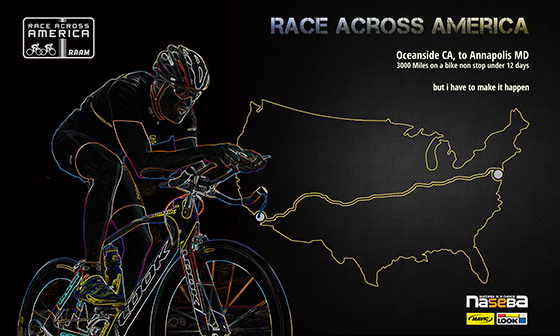 The toughest race in the world.
My coach Mario Huys, who is an Olympic rower and ex pro-cyclist suggested I do a bike challenge in 013 to help me prepare for the 014 challenge.
Mario challenged me to go after what many consider the toughest race in the world, RAAM (Race Across America) a 3,000 mile non-stop cycling race from San Diego, California to Annapolis, Maryland which must be completed under 12 days.
One website I came across says that as of 2011, since the race started in 1982 only 203 people have successfully completed RAAM "solo."
June 11th – 23rd is the race – I will attempt to ride my bike across America under 12 days (My goal is to complete the race within 10 days)
LOOK and Mavic who sponsored me for my naseba7 challenge, are supporting me again for RAAM.  I am very proud to ride LOOK and Mavic.
To achieve RAAM under 11 days, I will have to ride 20-22 hours a day for 11 days straight.
Of course, I must train, work and live with consistency, dedication and focus.
I saw a youtube video of a guy who during the first 46 hours of the race was off his bike for only 8 minutes.
Imagine …. The guy was on his bike for nearly 2 days straight with only an 8 minute break off the bike within the 2 days.
I want to experience the pain, sleep deprivation, solitude, and the beauty of riding my bike across America under 11 days – I want to see if I am tough enough to finish.
It's easy to sit in my comfortable chair and write…dream about doing this challenge — however.
Like nearly everything in life,
….but I have to make it happen.