Naseba is expanding further in Saudi Arabia.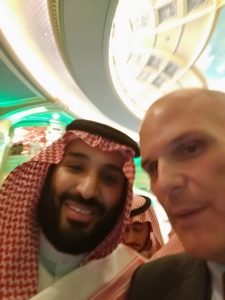 I have had the honor of meeting the Crown Prince of Saudi Arabia 3 times over the past month.
In  20+ years or so, I have met many business leaders and government leaders, including the previous Crown Prince, but I have never met a leader who has the same warmth, friendly, yet the VERY strong aura of authority as MbS. 
I met this young, dynamic leader for the first time a month ago, and the only reason I decided to post this blog today is out of my respect because I read this morning about some of the things he is doing to empower the youth of the nation.  
It is remarkable how much of a leader the Crown Prince is proving to be at such a young age; what he is doing already, so quickly … wow.
I speak from experience — having worked in Saudi Arabia for 10+ years, and KSA is our 2nd biggest market and our most successful esp. with our investor services.  From January we are expanding even further; I say with fond memories and a big smile thinking back over these years in KSA (like anyone who does a lot of business in Saudi) I have been screwed once or twice because of corruption — I have seen lots of crazy stuff happen … 
But I am very excited and optimistic for the country because finally, Saudi Arabia has a leader who is cleaning up the distractions, and I believe he is going to take the country to a whole new level.
I am not directing this last comment towards any leader in particular … but, I think too many leaders in general (whether in business or in politics) do too much talking or barking or tweeting about all the things, as leaders they are going to do … and too few just quietly, go about business letting their actions speak for them leading by example… like the Crown Prince is proving to do.
(For all the readers who disagree with this post — I am not naïve and understand geopolitics and how/why things work in the Middle East better than most.  Please feel free to send me your comments, but I do not want this post to turn into a geopolitical discussion/debate, therefore, I will not post any geopolitical related comments or commentary)