One of the coolest adventures of my life was a few years ago when I went to Yemen for an adventurous weekend.
I am reposting the blog I did on that trip because (recently) we have several Yemeni clients for …
I wonder how many great talents, whether in business, government or in sport fall off the proverbial mountain they are climbing because a little success soils their spirit, turning them arrogant, overconfident and leading them to stumble.
To be …
I fasted for 30 days from November 5th to December 5th.
For 30 days, I did not eat or drink anything other than water (no juice or special drinks)  —  only water.
Over the past year, I fasted 2 …
A couple weeks ago, at my church in Dubai (I go to Gatekeeper's) the sermon/message of the week was on the concept of how we consider and define success in our lives.
I will not inflict my Christianity on the …
This past Friday,  someone whom is sort of my mentor, Ben Richard said something that helped slap my focus back on track:   "If you have vision in your life, you can go through the pain."
Ben's discussion on the concept …
Last week, I was cc'd on someone's role memo which outlined KPIs in the coming 3 months.
The employee replied cc'íng me:  "I will do my best!"
As I read the guys email,  I thought to myself;  does this mean …
I have not posted a blog for a while because it's a challenge not to get sucked into a discussion on things in our world today without becoming consumed by negativity.
But I do have a funny story …
Two …
Recently, I met a guy at a dinner party who told me completely out of the blue that he has "over 40,000 twitter followers."
"My name is Toby, you should invite me to speak at some of your events, I …
A few weeks ago, I had breakfast with a good friend of mine in Dubai.
My friend is a COO of a Bahraini construction company, and he personally oversees 750 employees in 3 offices in the middle east.
I know …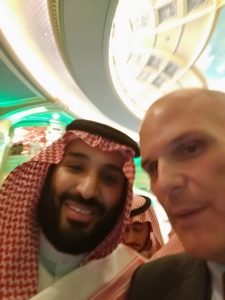 I have had the honor of meeting the Crown Prince of Saudi Arabia 3 times over the past month.
In  20+ years or so, I have met many business leaders and government leaders, including the previous Crown Prince, but I …